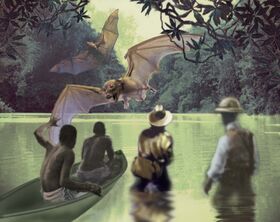 This article is UNDER CONSTRUCTION.
Country reported: Cameroon
The olitiau is a cryptid bat reported from Cameroon in West-Central Africa.[1][2]
Etymology
"Olitiau" is an Ipulo word, and is possibly a transcription of "Ole Ntya" ("cloven" or "forked"), which is the name of a dance mask with horns that is used to represent a demon.[1]
Description
Sightings
1932
Theories
Further cryptozoological reading
Notes and references