Our Article Guidelines
Please include in-line references when adding sightings or significant information.
In Sightings, try to quote eyewitness testimony as much as possible. To show that it's a quote, indent and italicize the text.
Try to include credit for images wherever possible.
Be objective and non-partisan in descriptions of Sightings and Theories.
For more detailed guidelines, see style guidelines and code help.
Note on Image Credits
Due to the difficulties in finding sources for images discovered on the web, many images illustrating our articles are not properly sourced our credited. If you notice an image by an artist whose name you know, please do not hesitate to add their name to the caption!
Click Here for a Random Cryptid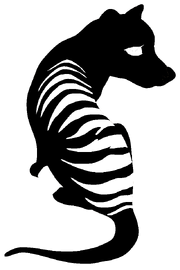 Welcome to the Encyclopedia of Cryptozoology
The Encyclopedia of Cryptozoology is dedicated to gathering all available knowledge on cryptozoology, cryptobotany, and other aberrances of nature - sightings, theories, evidence, new species, cryptozoologist biographies, books, television documentaries, and more.

We are always looking for properly sourced sightings we may have missed!

Please note that many of our longer pages feature identity polls on their talk pages, which can be accessed by hovering over the arrow next to the "Edit" button.
On This Day: Sightings